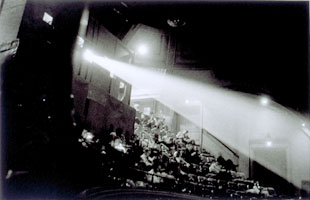 FILMS COVERED
2001: A Space Odyssey (Kubrick, 1968)
21 Grams (Iñárritu, 2003)
8½ (Fellini, 1963)
Adaptation (Jonze, 2002)
Ali: Fear Eats the Soul (Fassbinder, 1974)
All About My Mother (Almodóvar, 1999)
Amarcord (Fellini, 1973)
Amores Perros (Iñárritu, 2000)
Amour l'après-midi, L' (Rohmer, 1972)
Angst Essen Seele (Fassbinder, 1974)
Annie Hall (Allen, 1977)
Ansiktet
(Bergman, 1958)
Année dernière à Marienbad, L' (Resnais, 1961 )
Autumn Sonata
(Bergman, 1978)
Away From Her
(Polley, 2006)
Babel
(Iñárritu, 2006)
Bad ma ra khahad bord
(Kiarostami, 1999)
Bakushû
(Ozu, 1951)
Banshun
(Ozu, 1949)
Barton Fink
(Coen, 1991)
Beau Travail
(Denis, 1999)
Being John Malkovich
(Jonze, 1999)
Bicycle Thieves
(De Sica, 1948)
Bitter Tears of Petra von Kant, The
(Fassbinder, 1972)
Biutiful
(Iñárritu, 2010)
Blob, The
(Yeaworth, 1958)
Blue
(Kieślowski,1993)
Blue Velvet
(Lynch, 1986)
Boudu Saved from Drowning
(Renoir, 1932)
Breathless
(Godard, 1960)
Brokeback Mountain
(Lee, 2005)
Broken Blossoms
(Griffith, 1919)
Children of Paradise (Carné, 1945)
Chimes at Midnight (Welles, 1965)
Chinatown (Polanski, 1974)
Chloe in the Afternoon (Rohmer, 1972)
Christmas Carol, A (Desmond-Hurst, 1951)
Citizen Kane (Welles, 1941)
Claire's Knee (Rohmer, 1970)
Close-up (Kiarostami, 1990)
Contempt (Godard, 1963)
Cries and Whispers (Bergman, 1972)
Crossfire (Dmytryk,1947)
Crouching Tiger, Hidden Dragon (Lee, 2000)
Crying Game, The (Jordan, 1992)
Dans la Maison
(Ozon, 2012)
Devi (Ray, 1960)
Dolce Vita, La (Fellini 1960)
Dopamine (Decena,2003)
Double Indemnity (Wilder, 1944)
Dwaj ludzie z szafa
(Polanski, 1958)
Early Summer (Ozu, 1951)
Earrings of Madame de . . ., The (Ophüls, 1953)
East of Eden (Kazan,1955)
Eat Drink Man Woman (Lee, 1994)
Ehe Das Maria Braun, Die (Fassbinder, 1979)
Eight and a Half (Fellini, 1963)
Elephant Man, The (Lynch, 1980)
Enfants du Paradis,Les (Carné, 1945)
Eyes Without a Face (Franju, 1959)
Face (Bergman, 1958)
Femme Mariée, Une
(Godard, 1964)
Fallen Idol, The
(Reed, 1948)

Falstaff
(Welles, 1965)
Fargo
(Coen, 1996)
Freud
(Huston, 1962)
Genou de Claire, Le
(Rohmer, 1970)
Goddess, The
(Ray, 1960)
Godfather, The
(Coppola, 1972)
Good Night, and Good Luck
(Clooney, 2006)
Good Work
(Denis, 1999)
Grande Illusion, La
(Renoir, 1937)
Great Expectations
(Lean, 1946)
Hable con ella
(Almodóvar, 2002)
Hauru no Ugoku Shiro
(Miyazaki, 2004)
Hiroshima, Mon Amour
(Resnais, 1952)
Hobson's Choice
(Lean, 1954)
Homme et une femme, Un
(Lelouche, 1966)
Homme et une femme, Un: Vingt ans déjà
(Lelouche, 1986)
Höstsonaten
(Bergman, 1978)
Howl's Moving Castle
(Miyazaki, 2004)
Ikiru
(Kurosawa, 1952)
Illusionist, The
(Burger, 2006)
In the House
(Ozon, 2012)
Inside Job
(Ferguson, 2010)
Kid, The
(Chaplin, 1921)
Knife in the Water
(Polanski, 1962)
Ladri di biciclette
(De Sica, 1948)
La Dolce Vita (Fellini 1960)
La Strada
(Fellini, 1954)
Last Year at Marienbad
(Resnais, 1961)
Late Spring
(Ozu, 1949)
Laura
(Preminger, 1944)
Loin d'elle
(Polley, 2006
Lola Montès a> (Ophüls, 1955)

Lost Weekend, The
(Wilder, 1945)
M (Lang, 1931)
M. Hulot's Holiday (Tati, 1953)
Ma nuit chez Maud (Rohmer, 1969)
Madame de . . . (Ophüls, 1953)
Magician, The (Bergman, 1958)
Maltese Falcon, The (Huston, 1941)
Manhattan (Allen, 1979)
Man and a Woman, A (Lelouche, 1966)
Man and a Woman, A: Twenty Years Later (Lelouche, 1986)
Marriage of Maria Braun, The (Fassbinder, 1979)
Married Woman, A (Godard, 1964)
Mépris, Le (Godard, 1964)
Midnight in Paris (Allen, 2011)
Mon Oncle (Tati, 1958)
Montès, Lola a> (Ophüls, 1955)

Mulholland Dr. (Lynch, 2001)
My Man Godfrey (La Cava, 1936)
My Night at Maud's (Rohmer, 1969)
Nema-ye Nazdik (Kiarostami, 1990)
Night of the Hunter, The (Laughton, 1955)
Nights of Cabiria (Fellini, 1957)
Ninotchka
(Lubitsch, 1939)
Notte di Cabiria, Le (Fellini, 1957)
Nóz w wodzie (Polanski, 1962)
Odd Man Out (Reed, 1947)
On the Waterfront (Kazan, 1954)
Otto e mezzo (Fellini, 1963)
Our Man in Havana (Reed, 1959)
Play Time
(Tati, 1967)
Pleasure of Being Robbed, The
(Safdie, 2006)
Princess Mononoke
(Miyazaki, 1997)
Purple Rose of Cairo, The
(Allen, 1984)
Rashomon
(Kurosawa, 1950)
Red
(Kieślowski, 1994)
Red Road
(Arnold, 2006)
Road, The
(Fellini, 1954)
Règle du jeu, La
(Renoir, 1939)
Repulsion
(Polanski, 1965)
Ronde, La
(Ophüls, 1850)
Rules of the Game
(Renoir, 1939)
Saraband (Bergman, 2003)
Sceicco Bianco, Lo (Fellini, 1952)
Sciusciá (De Sica, 1946)
Scrooge (Desmond-Hurst, 1951)
Sen to Chihiro no kamikakushi (Miyazaki, 2001)
Serious Man, A (Coen, 2009)
Set-Up, The (Wise, 1949)
Seventh Seal, The (Bergman, 1957)
Shoeshine (De Sica, 1946)
Shop Around the Corner, The (Lubitsch, 1940)
Sjunde inseglet, Det (Bergman, 1957)
Sous le sable (Ozon, 2000)
Spirited Away (Miyazaki, 2001)
Stories We Tell (Polley, 2012)
Strada, La
(Fellini, 1954)
Streetcar Named Desire, A (Kazan, 1951)
Stunt Man, The
(Rush, 1980)
Sunset Boulevard (Wilder, 1950)
Take This Waltz
(Polley, 2011)
Talk to Her
(Almod&oacute,var, 2002)
Taste of Cherry
(Kiarostami, 1997)
Third Man, The
(Reed, 1949)
Three Colors: Blue
(Kieślowski1993)
Three Colors: Red
(Kieślowski,1994)
Three Colors: White
(Kieślowski,1994)
Todo Sobre Mi Madre
(Almodóvar, 1999)
Tôkyô monogatari
(Ozu, 1953)
Tokyo Story
(Ozu, 1953)
Trois Couleurs: Blanc
(Kieślowski,1994)
Trois Couleurs: Bleu
(Kieślowski, 1993)
Trois Couleurs: Rouge
(Kieślowski, 1994)
Trouble in Paradise (Lubitsch, 1932)
21 Grams (Iñárritu, 2003)
Two Men and a Wardrobe (Polanski, 1958)
2001: A Space Odyssey (Kubrick, 1968)
Umberto D. (De Sica, 1952)
Under the Sand (Ozon, 2000)
Vacances de M. Hulot, Les (Tati, 1953)
Vertigo
Visningar och rop / (Bergman, 1972)
Volver (Almodóvar, 2006)
Walkabout (Roeg, 1971)
Where the Wild Things Are (Jonze, 2009)
White (Kieślowski, 1994)
White Sheik, The (Fellini, 1952)
Wind Will Carry Us, The (Kiarostami, 1999)
Yeux sans visage, Les (Franju, 1959)
WELCOME TO A SHARPER FOCUS: A site devoted to increasing your enjoyment of classic movies by suggesting intellectually satisfying ways of enjoying them.
I don't review movies, that is, I don't tell you whether I think they're good or bad. I do try to suggest ways that you will enjoy a given movie more. And any movie I write about, I think is at least interesting.
Every writer has an ideal reader. Let me tell you, then, what I hope about you.
I hope you like movies. I hope you love movies, even (or especially) those that look at first glance trashy. The Blob or Dopamine .
I hope you like thinking movies through. I hope you love to wonder why there is a baby at the end of Rashomon . Or why Bergman had eight—not seven, not nine—soldiers burning the witch in The Seventh Seal .
Perhaps you've just seen a TCM re-run of Being John Malkovich , and you're asking, What was that all about. You might click onto this web site . . .
Maybe you are headed out the door for a classic film series. Tonight it's Tokyo Story , and you're wondering what to watch for. You might click onto this web site . . .
You're taking a course on movies, and you've just seen Shoeshine . You need something intelligent to say. You might click onto this web site . . .
This is a site that looks at its movies closely, and I hope you like doing the same. The site will work best if you click on the title and follow my suggestions for heightening your enjoyment.
I think of films as works of art, and I believe that one best enjoys works of art by appreciating how all the different elements come together to form an artistic whole. The notes of a symphony, the riffs of jazz, brush strokes, the metaphors of a poem, the interpersonal moments of a novel, or the shots and plots and scenes and camera angles of a movie—we can understand them as coming together around a focus. After we've seen a movie, if we ask, What was the point?, that was the point, the focus around which we can understand all the different elements of a film forming a work of art that makes sense to us as humans.